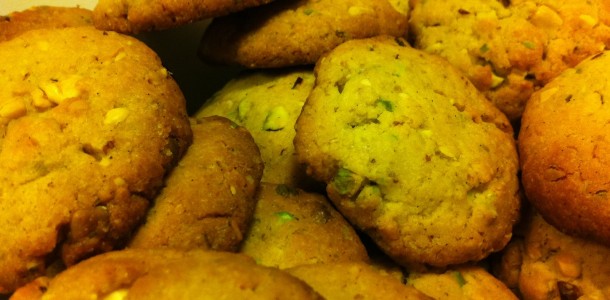 1 egg

100 g of butter

100 grams of granulated sugar

50 g of brown sugar

200 g of 00 flour

seeds of 1 vanilla pod

1 teaspoon baking powder

100 g of Bronte pistachios

100 g of white chocolate
Anyone who has been reading to me for a while knows that we love making cookies .. Since I discovered how easy and quick they are to make, and how much better they are than packaged ones, I haven't stopped making them! My absolute favorites are the cookies made with chocolate and dried fruit such as the chocolate and hazelnut cookies , or the oatmeal and walnut cookies . On Sunday I really wanted to bake some crunchy scented biscuits to eat together with tea with friends.. and I decided to try a rather particular combination: white chocolate and pistachios!
Preparation:
Grind the pistachios and white chocolate with a mortar until they are reduced to small pieces. Combine all ingredients in a large bowl in the order listed above and mix everything with a wooden spoon until smooth (and greenish due to the pistachios).
With the help of your hands, make small flattened balls and place them on a baking sheet covered with baking paper. Place them far enough away from each other because they will expand during cooking. I made about 20 biscuits and 2 mega cookies with the dough obtained.
Bake in a preheated oven at 160° for about 10/15 minutes, or until the edges darken. Don't worry if the biscuits still feel soft inside, they will harden once they cool.
Remove from the oven and serve them accompanied by a good tea. They are perfect for a snack or breakfast! We served them in a beautiful two-tone melamine bowl from the
Small entities
line made by
Mebel
and designed by Marco Maggioni. Otherwise you can keep them by placing them in a tin box.
With these cookies we participate in the contest
With this recipe I participate in the contest